GLOBAL DATA – Even after close to three decades of presence, Ford struggles to make it big in India. The American automaker has been in news recently over various speculations such as winding up operations in the country, selling its manufacturing to new automaker Ola, contract manufacturing for Citroen, or looking for a new business partner to bring in new investments. This clearly suggests that there is still a lot of uncertainty over the company's future in India, according to GlobalData, a data and analytics company.
Bakar Sadik Agwan, Senior Automotive Analyst at GlobalData, comments: "After ending its proposed joint venture with Mahindra & Mahindra, Ford is 'evaluating alternatives' and reassessing capital allocation for India. The country has been a tough marketplace to decode for several global OEMs. Ford, Honda, Toyota, Nissan and others hold miniscule market share, less than 3%, in the world's fifth-largest market, in terms of sales.
"The market is quite dynamic and highly price sensitive. Ford's folio in India has been simpler than other OEMs while the products are technically competent. Slow product cycles/updates, higher maintenance costs and moderate distribution and aftersales network have inhibited the growth."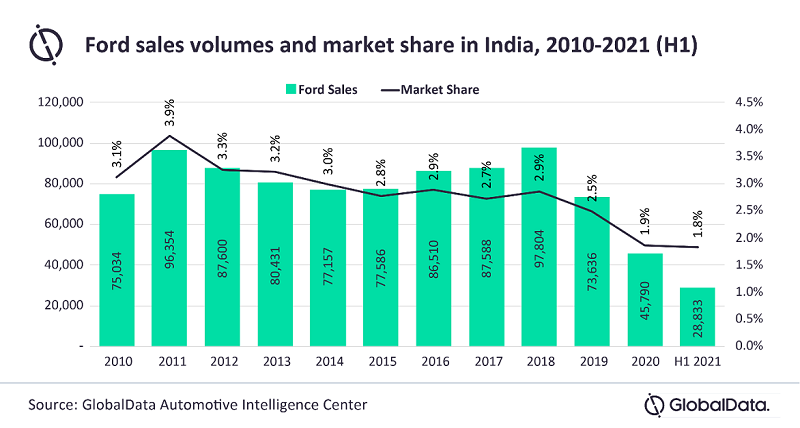 Ford presently offers only five key vehicle models in the country including its flagship EcoSport and Endeavour models, which are now losing share to newer competing products. Furthermore, the economic woes that rattled the automotive industry and the COVID-19 pandemic have made things tough for the company in India.
Unlike Ford, several other OEMs are recovering well from the COVID-19 blues and outperforming the market. Additionally, the company's highly under-utilized production capacity is a huge financial stress and a major cause of loss. Even after utilizing its two production plants for export production, it was only at 25% of its total capacity in 2020 – 440K units annually.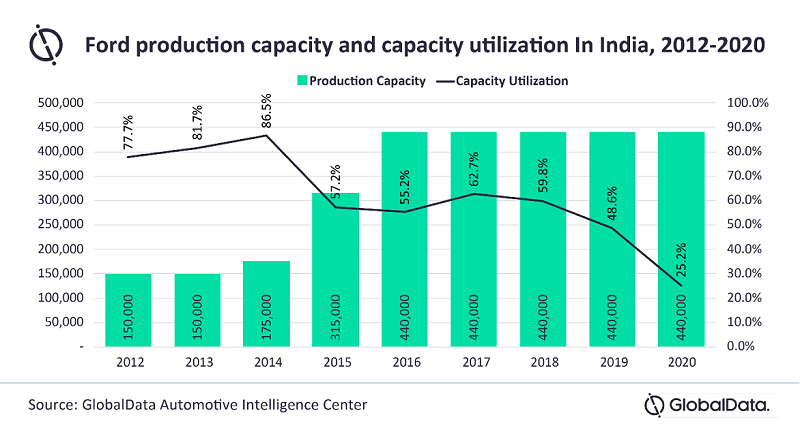 Mr Agwan concludes: "Further decline in sales may make things worse for Ford in India. However, the company's recent efforts are evident for its commitment to the Indian market. These include price cut up to 4.5%, product updates, new launches, and utilization of production capacity for exports to new markets. Lately, Ford has been trying to feature-load its products without much elevating the price tag, strengthening its competitive positioning. However, the company will need to strongly work on its strategic priorities to make a difference in the dynamic market."
Originally posted on F&I and Showroom
0 Comments